Pantanal & Bonito 5 Nights Nature Adventure
the two included destinations on the map
On this trip you will visit one of the largest inland wetlands in the world, the Pantanal. The wetland area is a nature reserve full of many different types of species, impressive flora and fauna as well as numerous rivers and freshwater lakes. On the excursions by jeep, by boat, on foot and on horseback, we will have the opportunity to explore this unique environment while seeing a variety of animals. If we are lucky we could see caimans, jaguars, monkeys, anteaters, tapirs, exotic birds etc.
We will also visit Bonito, selected 16 times as the best destination in Brazil for Eco Tourism, where you will see the fantastic underwater world while snorkeling in the 3rd clearest river in the world.
Our local operating staff has been working with tourism in the area since 1992, so you are in good hands all the way and you will have the opportunity to spot countless animals and birds during this nature adventure trip.
Included:
6 days and 5 nights in Pantanal and Bonito with Accommodations, meals, and tours included
Lodgers in Pantanal: San Francisco or Aguapé Lodge (depending on availability)
Lodge in Bonito: Pousada Olho d'água
Private Transfers, vehicle with air conditioning, to/from airport in Campo Grande and from Pantanal to Bonito
3 nights in Pantanal with full board (breakfast, lunch, dinner at set hours) at the lodge
Tours in Pantanal: Photographic Safari, Boat Ride, Horseback Ride, Night Safari, Piraya Fishing
2 nights in Bonito with breakfast and lunch included ( no dinner included in Bonito )
Tours in Bonito: Boca da Onça Hike with lunch, Hike & Fluctuation in Gruta Mimoso with lunch, Barra do Sucuri snorkeling
Private English speaking local guide during the whole local circuit.
Optional:
Arrive one day before, stay in Campo Grande, to start the adventure early the next day
Extra night either in Pantanal or Bonito ( more tours can also be added ).
Not included:
No drinks whatsoever included during the program, that is always extra.
( optional )
Arrival in Campo Grande the day before the start of the adventure
We suggest that you arrive in Campo Grande the day before the adventure trip starts in Pantanal so that we can pick you up early the next day and get to your lodge by lunch time.
If your flight arrives late we suggest you stay with walking distance to the airport at Aeroporto Plaza Hotel (right in front of the airport) or if you arrive earlier then you might want to stay in the center of the city, close to shopping, restaurants, and attractions, in Campo Grande, then we suggest Grand Park Hotel. If you opt to come earlier and if you want us to reserve the hotel for you, please let us know.
Please note, this day we have no services scheduled.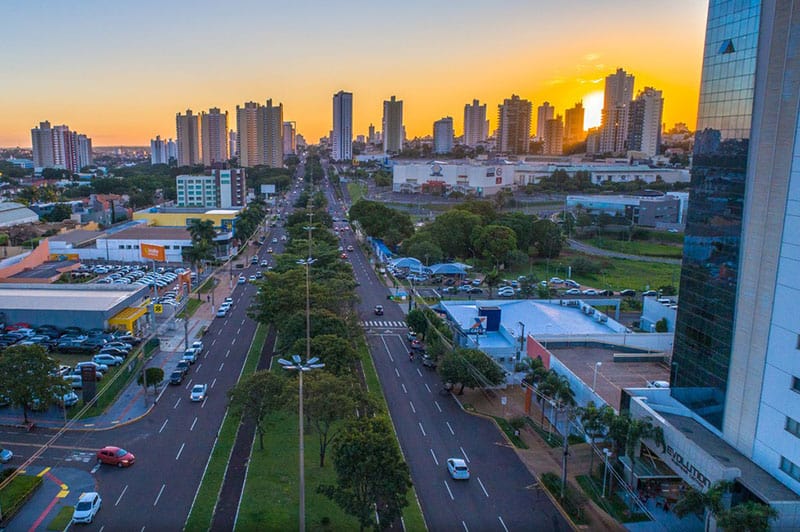 DAY 1
Pantanal
( – / Lunch / Dinner )
We will pick you up at the International Airport in Campo Grande or at your hotel with a private comfortable veicule and along will be an English speaking guide. We will start the approx. 3:30hrs drive to San Francisco or Aguapé Lodge, in Pantanal; the largest swamp area in the world and a great jungle area full of impressive animals living in the wild,
After the included lunch or dinner ( depending on the time you arrive at the Pousada there will be a day or night activity, according to the schedule of the Pousada.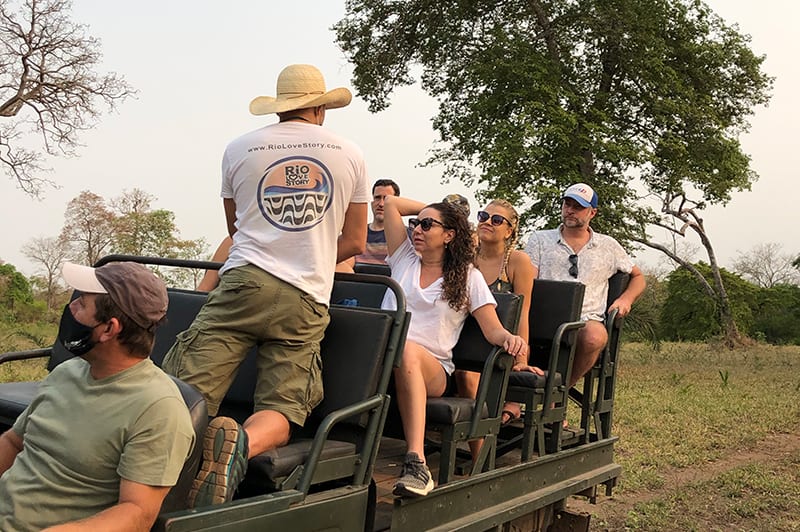 DAY 2
Pantanal
( Breakfast / Lunch / Dinner )
Wake up with a delicious breakfast and get ready to experience the wilderness that this part of Brazil is famous for. There will be 2 activities this day according to the schedule of the Lodge.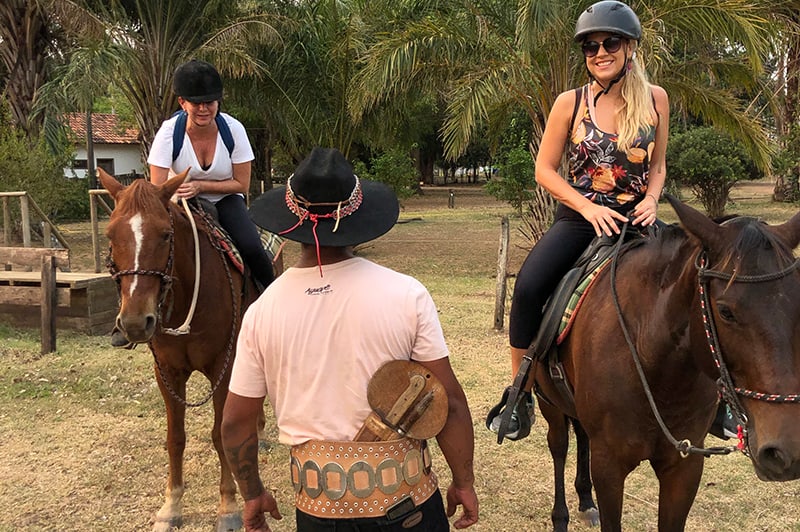 DAY 3
Pantanal
( Breakfast / Lunch / Dinner )
Wake up with a delicious breakfast and get ready to experience the wilderness that this part of Brazil is famous for. There will be 2 activities this day according to the schedule of the Lodge.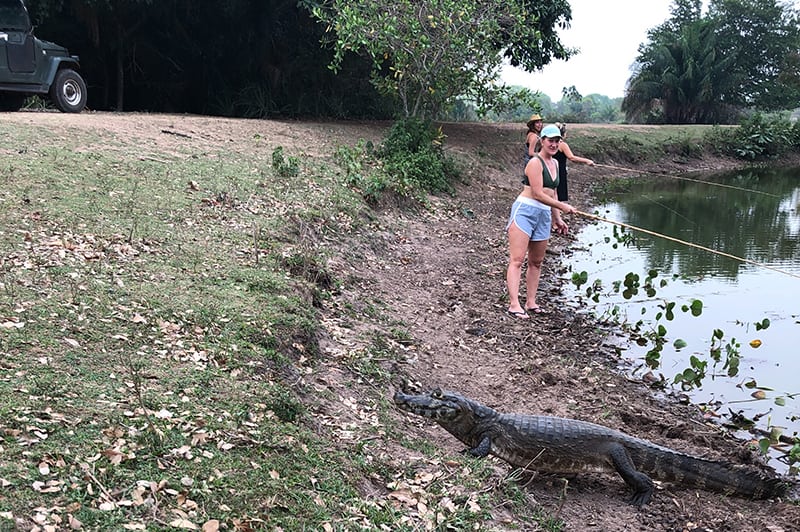 DAY 4
Pantanal – Bonito
( Breakfast / Lunch / – )
Early check out from the lodge in Pantanal and after private transfer to Bonito, and on the way you will stop to do the amazing Boca da Onça Hike with breakfast and lunch included.
The tour starts with a 4km hike through a jungle like forest, passing by more than ten crystal-clear waterfalls, the scenic Salobra River and natural pools. Halfway on the tour circuit there´s a Kiosk selling snacks and drinks, wit bathrooms. The highlight is the indescribable Boca da Onça Waterfall, with its height of 156 meters (512 ft), making it the State's highest. After relaxing and swimming at the Boca da Onça Waterfall, it´s time to continue, making the way back by climbing 866 steps that meander up the rocky wall that leads to the end of the tour. At the end of the steps visitors will also be met with the highest Rapel Free Platform in Brasil.
The hike will take approx. 6 hours and is of moderate difficulty. If somebody in your party does not want to do the hike he/she can stay at the main house below, where you find changing rooms, 2 big swimming pools, hammocks, great views. You can also opt to do only half of the hike, and ask the guide for a special veichle to come and get you at the trail kiosk, and bring you back to the main house.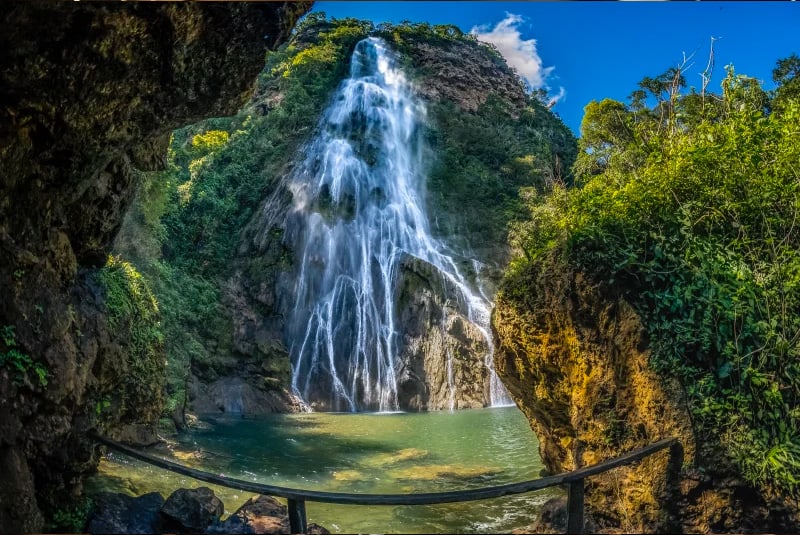 DAY 5
Bonito
( Breakfast / Lunch / – )
After breakfast we head to Gruta Mimoso for a  Snorkeling Tour. Right after getting the wetsuits on, you will start a 300 mts walk, meeting the instructors to receive all necessary orientation about the activity, providing all the training and information that will allow visitors to enhance their experienced. Right after this brief training visitors will walk down a 78 steps stairway (the stairway length changes according to the level of the water inside the cave), to reach the inner part of the cave to finally start the snorkeling, and be amazed by the underwater beauty of the geological limestone formations.​ Approx. 1h40min duration.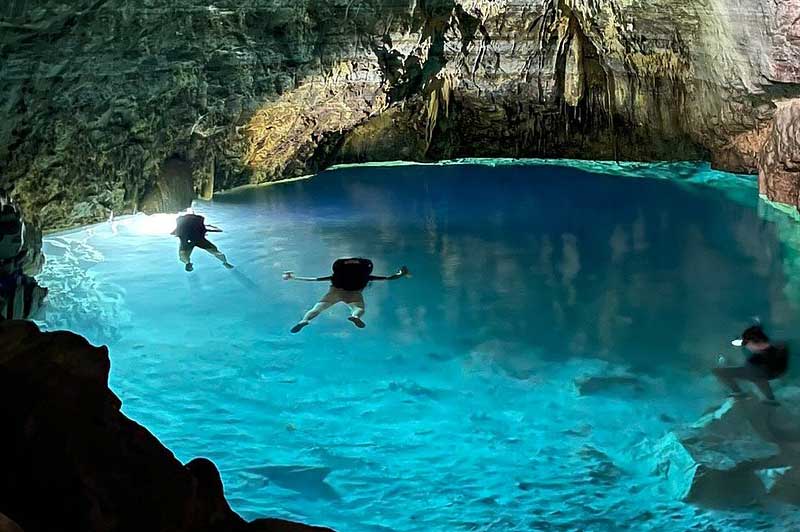 DAY 5 CONTINUED
Bonito
In the afternoon: Barra do Sucuri snorkeling.  We will be met at the Main House to try and test the necessary gear and then start a 400 meters light hike up to the river where the tour starts. At the river you will help paddle the boat 1.300 meters up river while enjoying all the beauty of the gallery forest and the transparency of the river from the boat. At the end of this ride you will then put on your masks and snorkels, jump out of the boat and finally see all the beauty of one of the most transparent rivers in the world. After the end of the tour back at the main house you can relax at the hammocks or at the Formoso River that is just a few steps from the house. Free night.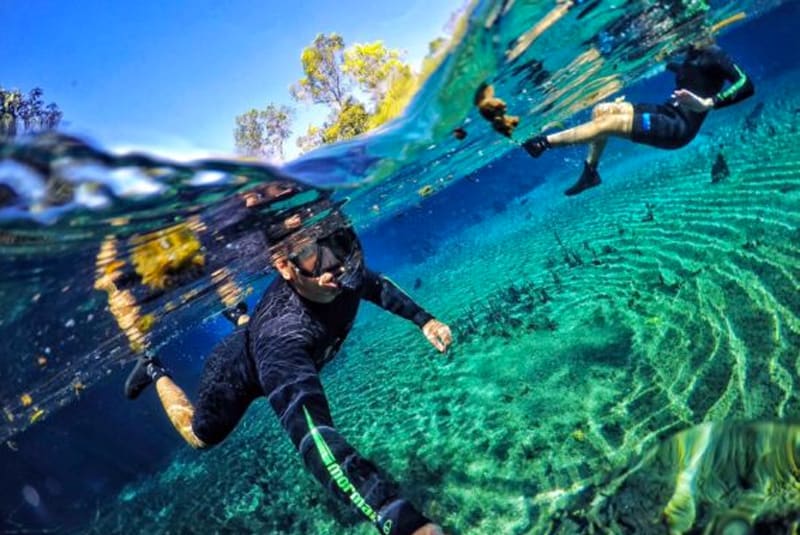 DAY 6
Bonito – Campo Grande
( Breakfast / – / – )
Breakfast and free morning.
Check-out from Pousada in Bonito and private transfer back to Campo Grande according to flight time.
If you want to do an activity in Bonito also the last day then ask us for our list of optional tours.
Until next time! It was a pleasure! Here ends our services.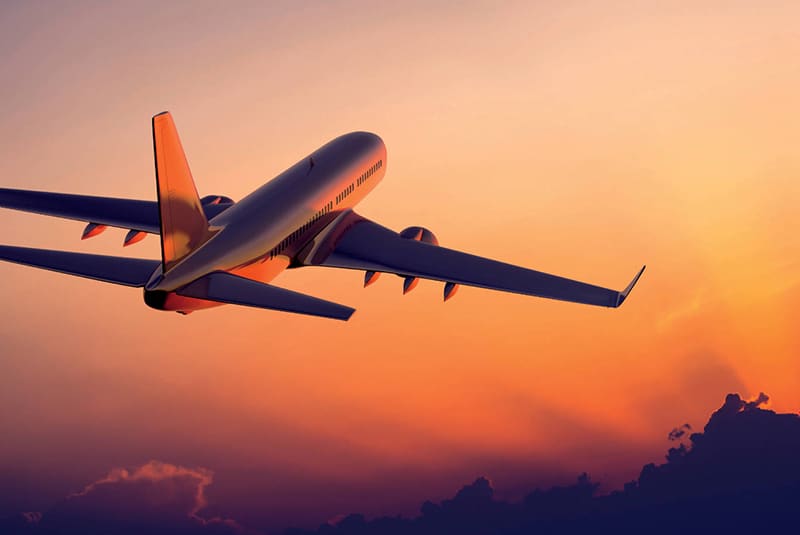 SOME OF THE MAIN wildlife YOU MIGHT SEE ON THIS TRIP
total package price per person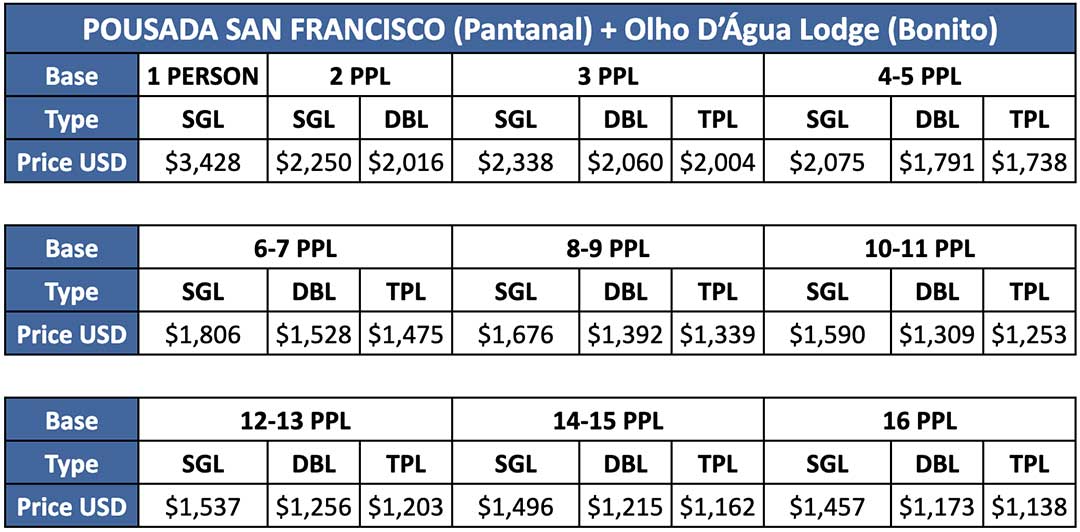 All prices above consider included a Private English speaking local guide, with you during the whole local circuit. Should you not need this support then you can opt for a Portuguese speaking private driver, who is not a guide, and Portuguese speaking guides at the lodges in Pantanal. Opting out of having a Private English speaking guide will discount any of the above mentioned prices with 10%.
activities included in pantanal
Description below for San Francisco lodge, other lodges are similar but not exactly the same.
PHOTOGRAPHIC SAFARI + CARANDÁ TRAIL – The Photo Safari is done in the preserve area and rice fields of the farm. In this tour it is possible to see the abundant local fauna like marsh dears, capybaras, caimans and many birds as the jabiru stork – b symbol of the Pantanal. With some luck you might see anteaters, tapirs and even the majestic jaguar, among many other mammal species and birds. During the safari you will be able to walk on a suspended trail built in the gallery forest of Miranda River. This walk lasts around 20 minutes. It is possible to visualize the encounter of the waters of Corixo São Domingos and Miranda River. 
RIVER BARGE (CHALANA) TOUR – Chalana is a typical barge of the Pantanal. In this tour it is possible to do some PIRAYA FISHING, and see the birds that make the river bank their home, like kingfishers, cormorants, egrets, herons, hawks, jacamars and many others. Caimans are often seen very close. With some luck, giant river otters, southern river otters and even an anteater can cross in front of the boat. On this tour guests can also try fishing for piranhas and visit the Centennial Fig Tree. During the dry season, it is possible to walk on a trail in the gallery forest of where you get to know the local vegetation. Trees like strangling fig tree, white fig tree, acuri palm tree, piuva, angico, and also several lianas can be seen.
VAZANTE TRAIL + WATCH TOWER – The Safari Car will take the guests up to the Vazante Trail, where guests will walk on areas of vazantes (drainage of the water in the wet season) and preserve forests of the farm. The trail is built on stilts allowing its use all year long. Many birds, marsh dears, anacondas and other animals can show up during the walk. At the end of this trails a watch tower 10 m high (30 feet) offer a great view of the surrounding landscape.
NIGHT SAFARI – Night tour operated in 4×4 adapted open vehicles, using a powerful long-range torch to observe crepuscular and nocturnal animals like anteaters, foxes, capybaras, caimans, crab-eating foxes, ocelots, tapirs, dears, owls, nighthawks, and with some luck the beautiful jaguar. During the night, the strong light used to spot the animals reflects in their eyes. We present the visitors with the possibility of encountering some of these animals during this night trip. We travel through the rice fields (good place to spot mammals) and the forested areas. During the dry season (usually between June and October) it is possible to traverse the beautiful area of Corixo Seco, which has an intact and tight forest. Our cars, called Jaguaretê (Jaguar), Jaguatirica (Ocelot) and Guará (Wolf), were specially built for this trip. They are mounted on Toyota Pick-ups equipped with seats in three different levels to facilitate the observation of animals by everyone in the car. 
HORSEBACK RIDE – Horseback riding is the most traditional way to explore the Pantanal like the pantaneiros (local cowboy) do, on a horseback! Our horses are tame and used to the easy walk of the trip that aims at searching for animals. On this tour, the pantaneiro guides, carry in their saddlebag the tereré – typical drink of the region – similar to the hot mate, but with cold water. During the ride, typical animals from the brazilian savannah can be seen, such as armadillos, anteaters, deers, rheas and countless species of birds.
CANOEING – In this 7km circuit the silence of the canoes and the emotion of paddling down river in a pristine area with caimans and piranhas make this tour an exciting and beautiful adventure, providing a unique opportunity to interact with nature with freedom and security. Monkeys, caimans, river otters, capybaras, among others, and many birds can be seen during this tour.
see a video from one of our previous trips
Reviews & Destination Award
further important information
Observations:
The order of the tours might change from above based on availability

In Pantanal

, the tours are carried out according to the water cycle, so the day by day of the tours is merely illustrative. Passengers will receive an exact confirmation of the tours at check-in at the Pousada
Any tour might be changed or replaced according to weather conditions
The tours in Bonito are very strict with timings and there is no tolerance for client delays, as well as no refund if client do not show up at the scheduled tour time
The lodge in Pantanal will be based on availability, but we first will check San Francisco Lodge, after Aquapé Lodge and finally Pequi Lodge; unless the client requests another order to check. In Bonito it will always be Pousada Olho D'Agua
At San Francisco Lodge in Pantanal:
Dinner is served until 7:30pm, and any clients arriving in Campo Grande later than 4pm will not make it on time for Dinner and must stop on the way to eat;
In order to do the morning activity and leave the lodge after lunch, departure flight from Campo Grande must be from 6pm onwards;
The Lodge do not give discounts in case of late arrivals or early departures (also valid for missed meals and tours);
Breakfast: from 7am to 08:30am, Lunch: from 12pm to 1pm, Dinner: from 06:30pm to 07:30pm
At Aguapé/Pequi Lodges in Pantanal:
Dinner is served until 8:30pm, and any clients arriving in Campo Grande later than 4:30pm will not make it on time for Dinner and must stop on the way to eat;
In order to do the morning activity and leave the lodge after lunch, departure flight from Campo Grande must be from 5:30pm onwards;
The Lodge does not give discounts in case of late arrivals or early departures (also valid for missed meals and tours);
Breakfast: from 6:30am to 08:30am, Lunch: from 12pm to 1pm, Dinner: from 07:30pm to 08:30pm

Any unforeseen events beyond our Rio Love Story's control such as missed, delayed, or cancelled flights, and their results must be addressed directly to the provider of the service (such as the responsible airline)
Almost 100% of the food you will eat at the lodges in Pantanal are made from their own grown produce and meat, giving it a natural and delicious taste not found in any supermarket. If you have any special dietary needs then please let us know and we will accommodate

There is only one airport in Campo Grande = Campo Grande International Airpot with code CGR

All lodges in Pantanal have accident insurance included and their staff are trained in first aid
Private transfer in Basic Sedan vehicle with air conditioning (up to 3 people) or Executive 14 seats Van (from 4 to 10 people)
In a Sedan we use a Driver Guide and in a Van we use a separate Driver + separate Guide
For our private transfers – our cars are no older than 2 years (sedan vehicles and Doblo) or 3 years (Vans and Buses), and they are always checked-up after returning from a trip
All our Guides are born and raised in the area and are very knowledgeable, professional and are there to help you with information and logistics.
How to Pay:
50% payment needed to reserve; the remaining part needs to be paid at least 20 days before check-in
Payment can be done via PayPal, Local or International Bank Transfer, or Credit Card.
Cancelation Policy:
Cancelation 62 days prior to check-in  = 50 USD charge per person (the rest is refunded)

Cancelation between 61 and 35 days prior to check-in  = 50% charge of total value

Cancelation between 34 and 20 days prior to check-in  = 60% charge of total value
Cancelation between 19 and 1 days prior to check-in  = 100% charge of total value.
what to bring on the trip
Essential Items:
Avoid bright colours. Neutral colours are best for Safari
Avoid black clothing because it attracts mosquitoes
Insect repellent
Sunglasses
Hat or cap
Shorts
Comfortable clothing
Long pants
Long sleeved-shirt
A small backpack for day trips
2 pairs of shoes – tennis/walking shoes and/or hiking boots
Sandals
Bathing suit
Rain coat
Dry-bag for camera or other water sensitive equipment
Cash
Passport
Waterproof sunscreen
During the months of June to August it can be cool, therefore please also bring a fleece or a sweater during this time of the year.
We kindly ask that luggage, per person, not exceed 50 pounds (23 kg).
Recommended Items:
Extra battery for camera
Underwater camera during snorkeling in Bonito
Ziploc bags for keeping things dry
Small first aid kit with personal prescriptions
Binoculars
Headlamp or flashlight + extra batteries
Non-breakable reusable water bottle
Appliance chargers, plug converters and/or charge adaptors
Toiletries Kit: toothbrush, toothpaste, soap, shampoo (biodegradable products please)
Skin lotion and lip balsam
Personal medicines
Small supply of nonperishable snacks (avoid fruits/nuts to clear customs)
Contact lens or glasses and a spare
about the seasons in pantanal
The Dry Season –
from April to October
As opposed to the wet season, the dry season provides countless opportunities to observe the rich and diverse Pantanal Fauna and Flora as the flood waters recede, leaving a fertilised soil that will restart the base of the food chain,  with special mention to land mammals that roam savannah like open fields of Pantanal in search of food. The Dry Season is mostly indicated for those who want to observe land based wildlife.
The Wet Season –
from November to March
This is the best time for those who want to see what makes the Pantanal so unique, and the largest flood plain in the world: the abundant fresh water that floods the plain making it look like a gigantic water mirror. It is definitely the best time for those who love dramatic landscapes, breathtaking sunsets and sunrises. Although the wet season takes over a large portion of Pantanal, pushing land wildlife to seek refuge in higher lands, it is still possible to see thousands of birds, as well as some animals that can comfortably negotiate the flooded areas, such as Tapirs, Capybaras and Marsh Deers.
Summer – January to March
The plain gets slowly flooded;
The rain intensifies through all of Brazil;
The water of the rain flows from the surrounding tablelands toward the Pantanal lowlands;
The largest flooded plain on the Planet is slowly formed even if just fora short time;
The sky varies between cloudy and clear;
The wildlife seeks refuge on the elevated forest patches;
The reptiles lay their eggs;
Migration of the limpkins, ibises, and ducks
Explosion of water wildlife
Autumn – April to June
Spectacular scenery! The rainy seasons ends;
Ebb – the water returns to the river beds or it evaporates;
Wonderful clear and star-rich sky;
The fish return to the rivers or get trapped in small ponds;
The beginning of a giant food chain;
The fields emerge, turn greener and bloom;
Strong breeding season;
Arrival of storks and herons in large numbers…
Winter – July to September
Rivers and lakes lower their volume;
Full drought;
Dry plain, semi-arid climate;
The sky gets smoky due to fires and dust;
Vegetation yellows from lack of water;
Animals are concentrated on the banks of ponds and river ravines…
Nesting and reproduction season…
Spring – October to December
The first rains turn the plain greener;
All the water is absorbed by the arid soil;
The sky becomes bluer and cleaner;
Spectacular explosion of foliage and flowers;
A period of euphoria is established;
Singing birds chirp and nest;
Mating season for most mammals;
Migration of fly-catchers, hawks and swallows.
what do our customers say about us?
40% Payment needed to reserve and we recommend you pay via bank transfer, PayPal, Transfer Wise, Credit Card, or Cash.
The remaining 60% needs to be paid until 10 days before the start of our services.
Up to 30 days prior to arrival = Full refund
From 29 to 20 days prior to arrival = 70% refund
From 19 to 10 days prior to arrival = 60% refund
From 09 to 05 days prior to arrival = 50% refund
04 days or less = 0% refund
All cancelations should be communicated to the company in writing by emai:
reservations@riolovestorycom or WhatsApp: +55 21 99620-1948
Changes can be made upon availability.
Facebook
You can book or ask questions through Facebook Messenger.
WhatsApp
Or if you choose contact us on WhatsApp
Leisure Tourism: +55 21 99620-1948
MICE Tourism: +55 21 98520-4635