big five rio + More
Private Top Rated Tour
Overview
Rio de Janeiro is home to world-famous landmarks, natural wonders, and vibrant neighborhoods with different cultures. Discover the top things to see in Rio de Janeiro on this private tour with an itinerary that takes in five of the city's most memorable attractions. Visit the Christ the Redeemer Statue atop Corcovado hill, Carnival Sambadrome, and take in the views from Praia da Joatinga. Plus, visit Parque Lage and explore the Santa Teresa neighborhood, home to the colorful Selaron Steps.
But wait, there is more. On the route, we will also stop to know some other iconic and amazing locations, such as The Tijuca Rain Forest, see hang-gliders land on São Conrado Beach, and Favela Rocinha.
Optional, you can also add to ride the cable car to the top of Sugarloaf Mountain.
We add Sugarloaf as optional as the ticket price is significantly more expensive.
Highlights:
Five Rio highlights + Four additional attractions in one day: ideal for first-time visitors
Delicious traditional Brazilian BBQ lunch at a restaurant in Santa Teresa
Private tour: enjoy the undivided attention of your certified English-speaking guide
Pickup and transport by private and comfortable vehicle with A/C
We can pick you up at Copacabana, Ipanema, Leblon, Center, Barra da Tijuca, or the Port.
We aim to have fun and leave you with great memories and photos. Our Official Certified Guide can pass the public ticket lines at the attractions, so you have more time to enjoy and less time in lines.
Duration: Approx. 6-7 hours with no rush and many photo opportunities. Should you choose to add Sugarloaf then the time extends to 8-9 hours.
Start Time: Anytime between 8am to 10am (you choose but if Sugarloaf is added then we need to start latest 9am).
Included:
Entrance Ticket to Christ Statue
Brazilian BBQ lunch (one soft drink/beer/soda/caipirinha per person)
Driver & Comfortable Vehicle ( pick up and drop off at your hotel or apartment )
Private Transportation
Rio Official Guide (Our guide will be able to avoid lines when buying tickets because of special preference at the ticket office)
Book your's now with great Cancellation Terms!
In case of heavier rain, this tour is canceled automatically, and you receive a full refund.
Stop One – TIJUCA RAIN FOREST
We will start by going into the Tijuca Rainforest, the largest urban rain forest in the world and home to hundreds of species of plants and wildlife, many threatened by extinction.
Only when we are inside the forest we will feel how big and dense it really is and we will be surprised that we are still inside a big city, like Rio de Janeiro.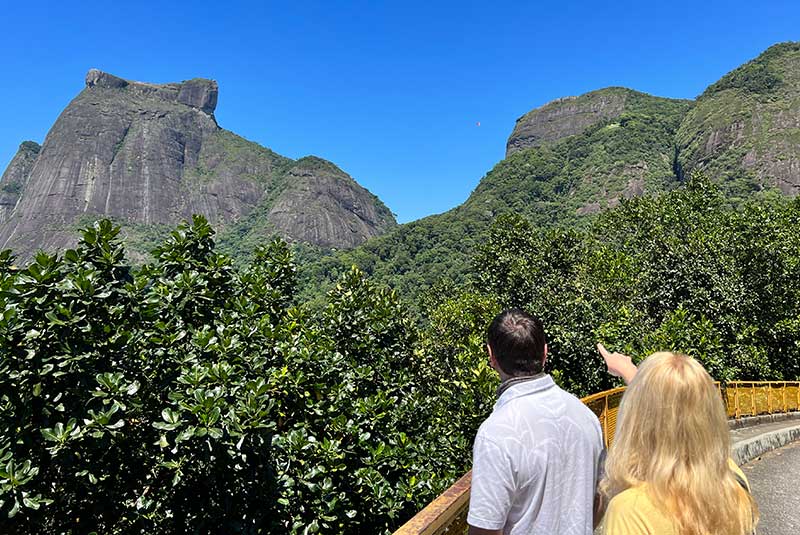 Stop two – praia da joatinga
Secondly, we will head to the amazing and secret Joatinga Beach; a small jewel formed by a hidden cove is one of the most beautiful beaches in Rio de Janeiro and its visitation is a high point for those who like beach, surf, nature and to know where the "Cariocas" go for fun.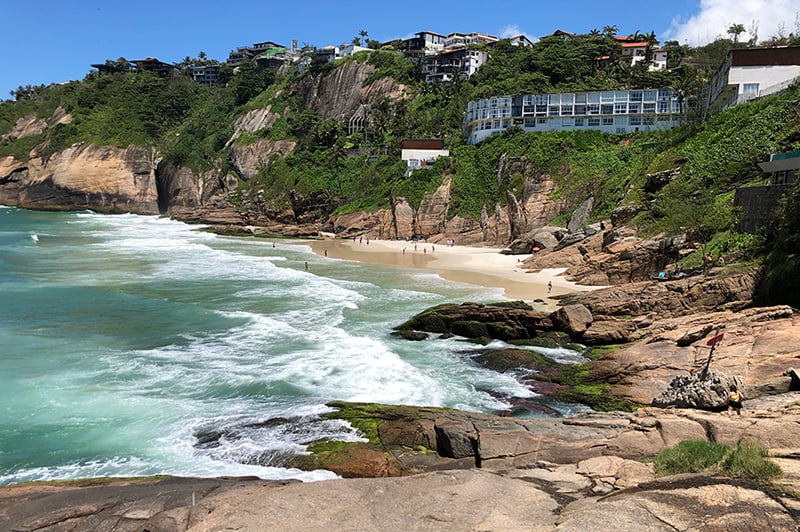 Stop three – hang-gliders land on são conrado beach
We will stop by São Conrado Beach to see the hang-gliders land on the beach after their fall from Pedra Bonita. From here you also have a great view of the iconic mountain Pedra da Gávea.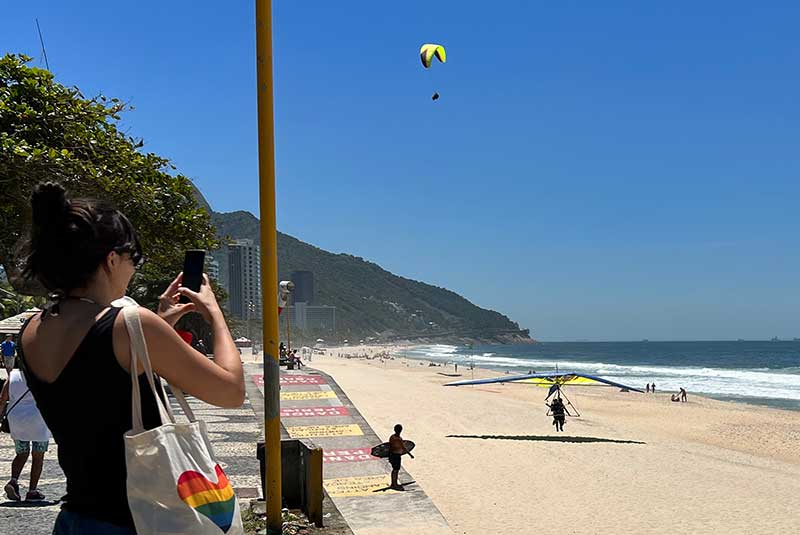 Stop four – favela rocinha
We will enter the most famous and largest favela in Rio, Rocinha. Understand how a favela really works and what factors have influenced it thru history and present.
If your group is up to 3 people then we will go to the very top of the Favela. Groups of 4 people and more, we enter into the favela, by foot, but do not go to the top.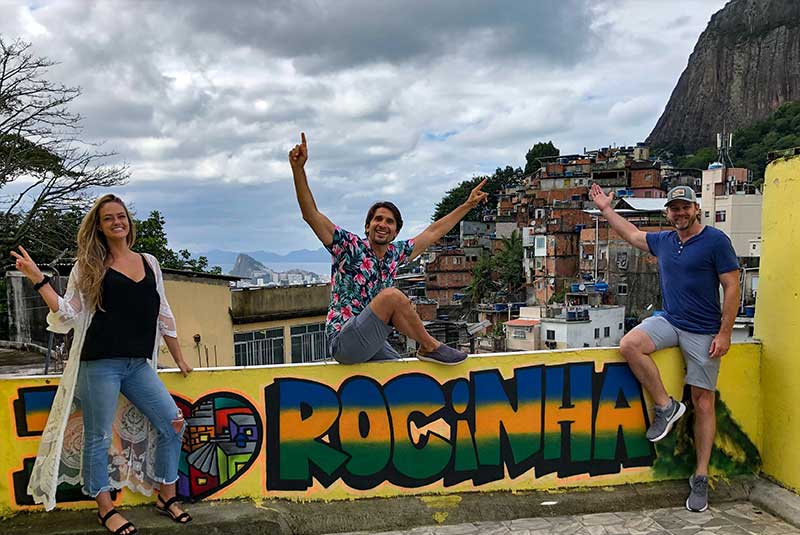 Stop five – carnival sambadrome
This is where the biggest parade show on the planet happen once a year during.
The Sambadrome was build specially for the Carnival and has capacity for 90.000 spectators.
Designed by Brazil's most famous architect, Oscar Niemeyer.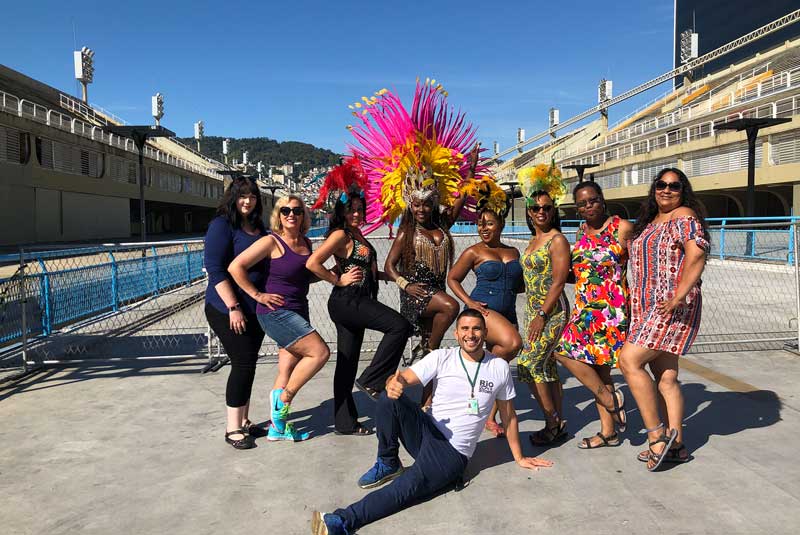 Stop six – The Selaron Steps
In 1990, Selarón began renovating dilapidated steps that ran along the front of his house. At first, neighbours mocked him for his choice of colours as he covered the steps in fragments of blue, green and yellow tiles – the colours of the Brazilian flag. It started out as a side-project to his main passion, painting, but soon became an obsession. He found he was constantly out of money, so Selarón sold paintings to fund his work and also tiles were donated from all over the world. It was long and exhausting work but he continued on and eventually covered the entire set of steps in tiles, ceramics and mirrors.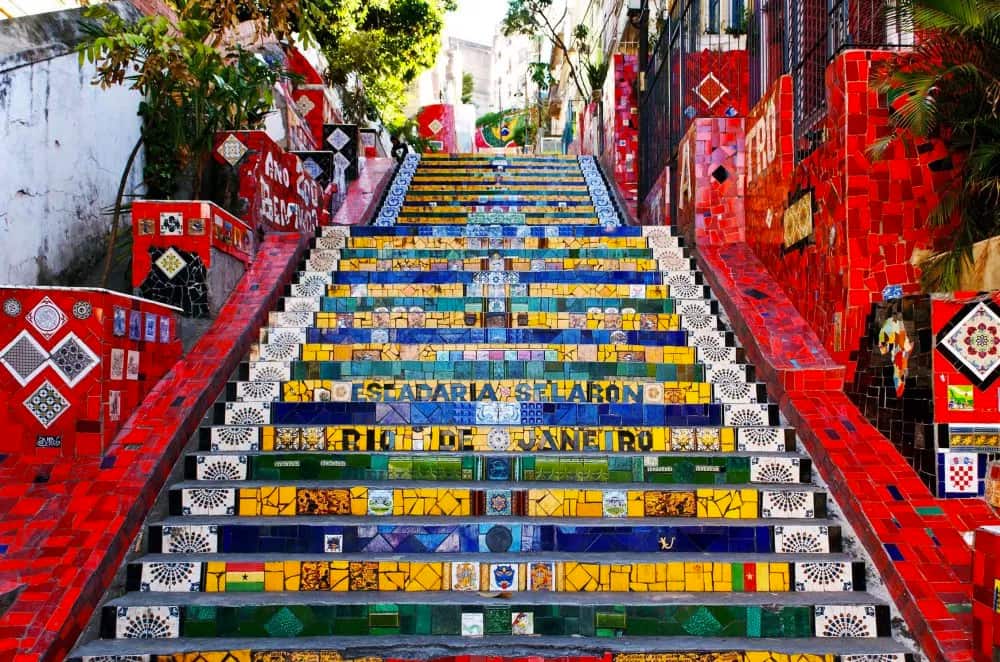 Lunch at Santa Teresa
We will have a tasty Brazilian BBQ lunch at the historical and bohemian neighbourhood Santa Teresa. This part of town is also famous for artistry, culture and great views over Rio.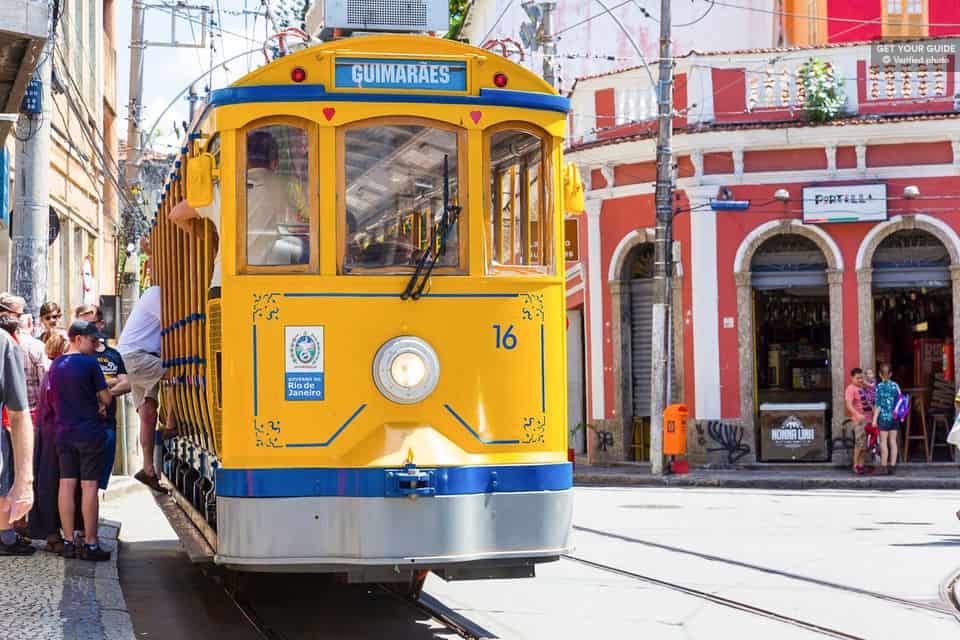 Stop eight – Christ Redeemer Statue
Next we go up Corcovado Hill to see Brazil's greatest national icon and on of the new seven wonders of the world. This is the highest point we will visit during this day, with 710 meters.
Our Rio Official Guide will facilitate your entrance tickets, avoiding the long lines to acquire them.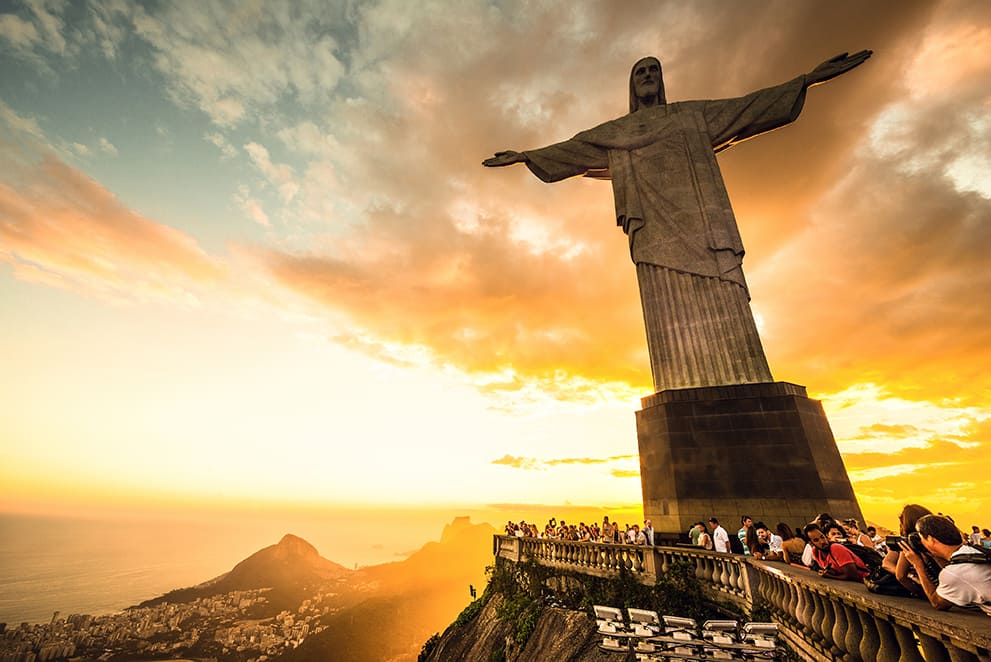 Stop nine – Mirante Dona Marta
From this lookout point, we see Sugarloaf and Corcovado Moutain, from a completely different angle. We also have a complete view over the center area and Guanabara Bay.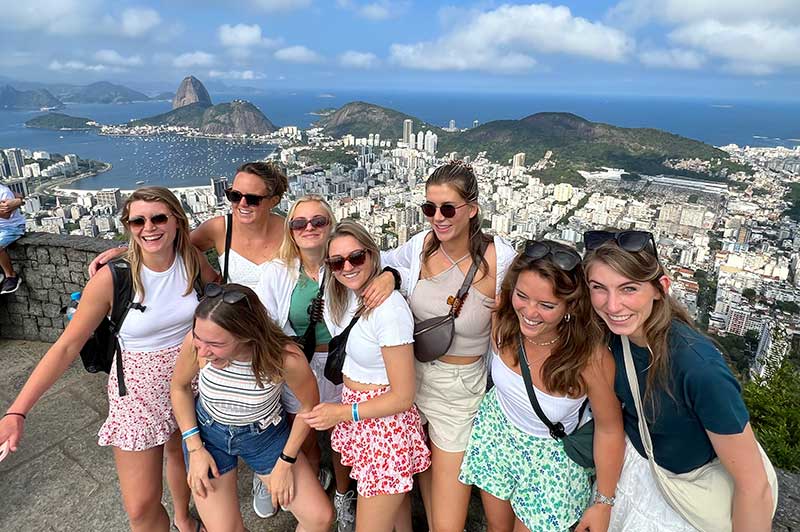 OPTIONAL Stop ten – Sugarloaf Mountain
Sugarloaf Mountain is a peak that rises 396 meters high and presents a bird's eye view of Rio de Janeiro from the mouth of Guanabara Bay. To get to the top we take two cable cars called "bondinhos". The first cable car takes us up to the Urca Mountain and the second to Sugarloaf.
Add this optional attraction to end this full-packed, fund day here at Sugarloaf and see the sun go down over Rio de Janeiro.
Price to add Sugarloaf: 40 EUR Per Person on weekdays and 60 EUR on weekends.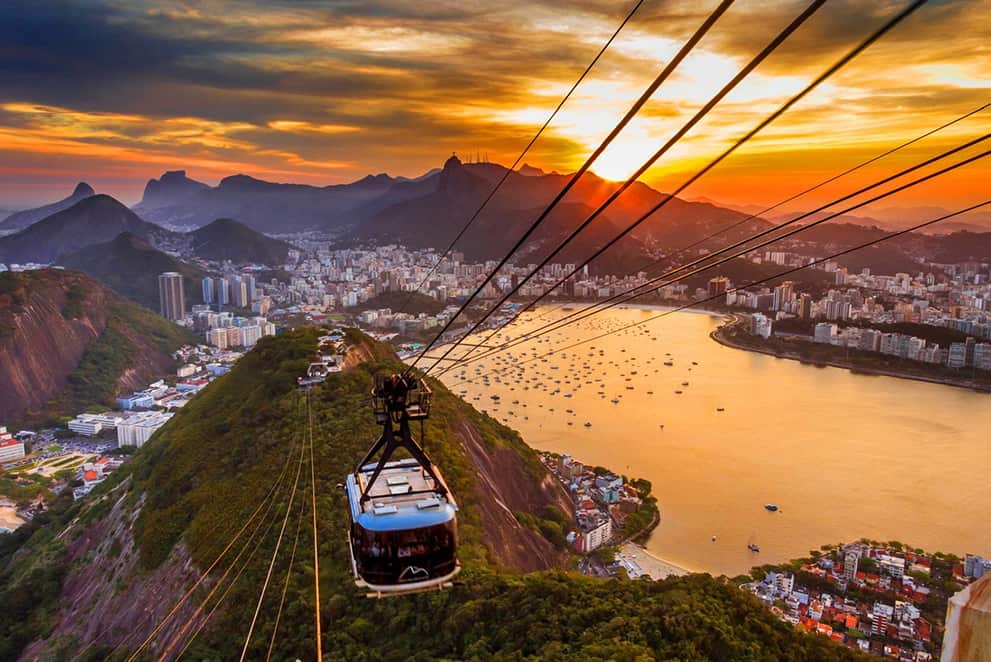 Top Rated Tour
Thanks so much to our clients who have taken the time to review our Big Five Rio tour on Trip Advisor and Viator.
what do our customers say about us?
We used Rio Love Story to organize transportation, tours and hotel for our group, 28 people.
With large group It is always difficult to find something everyone like. Rio Love Story organised a great tour in Rio everyone liked on short notice. Great knowledge of Rio!! He arranged good tickets to a soccer match with transportation, recommended!
He also organised transport on short notice during our stay around in Rio.
If you need help to organize your tour I would recommend you to give Rio Love Story a call!!! I will definitely use them again!
Thomas / Norway
I would whole heartedly recommend this AMAZING 5 Star Tour ⭐️ The guide Tavi was sooooooo knowledgable, kind, attentive to our needs & made us feel so welcome. The History of Rio flowed with verve & fascinating facts. The vehicle was very comfortable, air conned & spacious. Perfect for our tour. Our friends wheelchair fitted well in the boot. The guided tours of the five fantastic locations were superb. Get to Rio, book Tavi & have the best tour, tailor made just for you ❤️
Peter / England
Tavi is knowledgeable, personable, and made our first day (and first time; 7 of us!) in Rio an unforgettable experience!
I would not hesitate to book a tour with him next time I'm in Rio. If you're looking for someone who knows and loves the city and can educate you while still having fun, Tavi is your guy!
Tameir / USA