Maybe you have already bought your flight ticket to come to Rio de Janeiro or maybe you're still thinking going. In any case know that the locals, called "Cariocas", are super friendly and are known for their cordial hospitality, helping create the perfect environment for your travel.
Below are some practical information for you to know and be aware of.
HEALTH
Usually, there are no compulsory health requirements for entry into Brazil, however, now during COVID-19 times you are required to have a health insurance that covers COVID.
Precautions are advised for Yellow Fever, Typhoid, Polio and Malaria. We suggest you contact your local G.P. for current advice and recommendations. You are advised to have full medical insurance coverage. Please note that if you are entering Brazil via Peru, Ecuador or Colombia, you will be required to provide an up to date yellow fever vaccination certificate for immigration purposes. Avoid eating and drinking local products from street vendors and restaurants with suspect hygiene or refrigeration practices. It is advisable to drink only bottled water at all times.
MONEY
The Brazilian currency is the REAL; 100 centavos = 1 real. Bank bills are in denominations of 200, 100, 50, 20, 10, 5, 2; coins are 1.00 real; 50 centavos, 25 centavos, 10 centavos, 5 centavos and 1 centavo. All banks and exchange offices accept travelers checks and foreign currency. It is advisable to take US Dollar travelers checks or currency as this is more readily exchanged than other currency. There is a currency exchange black market, but you are strongly advised to ignore anyone who approaches you asking if you want to change money. Credit Cards – Access, MasterCard, American Express, Diners Club and Visa are accepted in the majority of hotels, shops and restaurants. Banking Hours – 10:00-16:00 Monday to Friday (may vary in some banks) ATM machines are also available in the main cities. There is a limited amount to be withdrawn daily. After 10:00PM it is only possible to withdraw up to 100,00 reais. Depending on the bank no withdrawals are allowed after 10:00 PM.
ELECTRICITY
The electric current in most of Brazil is 110v. Many hotels have adaptors if necessary, although is recommended to bring your own travel adaptors.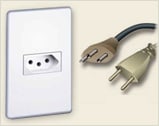 SAFETY
Like in most big tourist cities there are "tourist traps"and risk of being mugged/robbed, and the stories you see about Rio de Janeiro in the news are many times greatly exaggerated. However, risks exist but can be mitigated. Therefore we have created the following simple guidelines list to keep you safer when you visit the Marvellous City.
– Be aware that most crime is opportunistic and the best way to avoid theft is to blend in and stay in known areas. It is not advisable to take valuable jewellery or a shiny wristwatch. Cash kept on your person should be kept to a minimum. Where possible, leave any valuables, documents and passports in your hotel safety deposit box. Do not bring your cell phone or other valuables to the beach as it can be crowded and give and opportunity to the thief, while you are relaxing
– When using Uber, important that you to check the licence plate of the car before getting getting in
– Choose the right neighborhood to stay at from the beginning. The right neighborhood for you depends on what you will want to spend your time doing in the city. For example, if you want to stay close to the beaches then stay in Ipanema, Leblon, or Copacabana. If you want cheaper accommodations alternatives and staying close to the beach is not so important, then consider Botafogo, Gloria, or Santa Teresa.
– When on the beach, keep your eyes on your valuables or best yet, do not bring valuables to the beach
– At night, ask locals which neighborhoods are considered safe. In general be extra cautious at night in Lapa, Centro, and Santa Teresa
– Walk with a purpose and try not to look like a lost tourist or worse yet, a lost drunk tourist
– Most importantly – Do not drink alcohol is such quantities that you loose control and always eat before drinking!
LANGUAGE
The official language is Portuguese. Some English is spoken but in general not much. In major hotels and other tourist attractions you should always find somebody who speaks English.
TAXES
Airport taxes are usually included on the ticket price. To promote tourism and conventions, most of the hotels charge a non mandatory fee that runs from U$ 1,00 to U$ 7,00 per room per night depending on the hotel category as a contribution to the Convention Bureau. If guests want to deny the payment they must inform to the reception clerk upon check out.
TIPPING
In most restaurants and bars a 10% service fee is added to the bill. More sophisticated places may add on 15%. If service is not included it will be stated at the bottom of the bill: "Serviço não incluído". Cab drivers do not expect a tip, but it is normal to round up the final price. You should be aware that the amount shown on the taximeter may not always correspond to the amount you are due to pay – look out for a separate sheet taped to the window which will tells you how much the amount on the meter equates to. Note, we always recommend you to go with Uber in Rio de Janeiro, instead of Taxi.
CLOTHING
Dress down and comfortable.
No need to use expensive jewellery or watches and never bring a suit if you are not coming for oficial government purpose or business. Take into considerations the temperatures and precipitaiton graphs below when choosing how you will pack your bag.
TEMPERATURES & PRECIPITATION