Arraial Exclusive Sun & Fun
 Welcome to Arraial do Cabo, known as the "Brazilian Caribbean".
Here you will go on an amazing and exclusive boat tour to visit amazing beaches such as Ilha do Farol ( voted as the most perfect beach in Brazil 4 times ).
Your boat will be one of the 2 first to leave from the dock in Arraial so you will find the beaches pretty much empty as you escape the mass tourism.
After the boat adventure we will take you to Praia Grande, "the big beach", where you can relax until sunset, when our private transfer safely will bring you back to Rio de Janeiro.
On the day, our driver will pick you up at Copacabana, Ipanema, Leblon or the Center at 04:00am (early), in a private and comfortable car.
The boat Check In start at 7:00 and ends at 7:30 at the last pier of Praia dos Anjos, in Arraial do Cabo. The boat tour ends around 12:30 and then you can just let our driver know if you want to stay in Arraial, at Praia Grande, until sunset if you prefer to head back to Rio. At Praia Grande you have plenty of lunch options including fresh fish dishes. If you decide that we head back to Rio after the boat tour then we should be back around 4pm. In case you want to stay for the sunset then we should be back in Rio around 10:30pm.
Included:
3 stops for bathing at: Ilha do Farol (1hr stop), Prainhas do Pontal do Atalaia (1hr), Enseada da Praia do Forno (30min).
We will also pass by amazing places such as: a Fenda de Nossa Senhora, Gruta Azul, Gruta do Amor, Cratera do Meteorito, Pedra do Macaco
Private Transfers (vehicle with air conditioning), to/from Arraial do Cabo
Stay in Arraial do Cabo until sunset if you choose
Exclusive regular boat ride with less people on the boat and on the beaches
The boat has a capacity of 70ppl but only sell to a max of 55ppl for the comfort of all guests
Wi-Fi On-board
Bar & Snack service on-board (water is free)
Mask and snorkel rental on-board (extra charge)
Approx. 5hrs boat Tour
STOP 1 – ILHA DO FAROL
Elected most perfect beach in Brazil 4 times
Unspoilt beach with white powdery sand, dunes & turquoise waters protected by the Brazilian Navy.
We will be one of 2 boats that arrive here first so you will have plenty of space on the beach and amazing photo opportunities.
We spend approx. 1 hour here.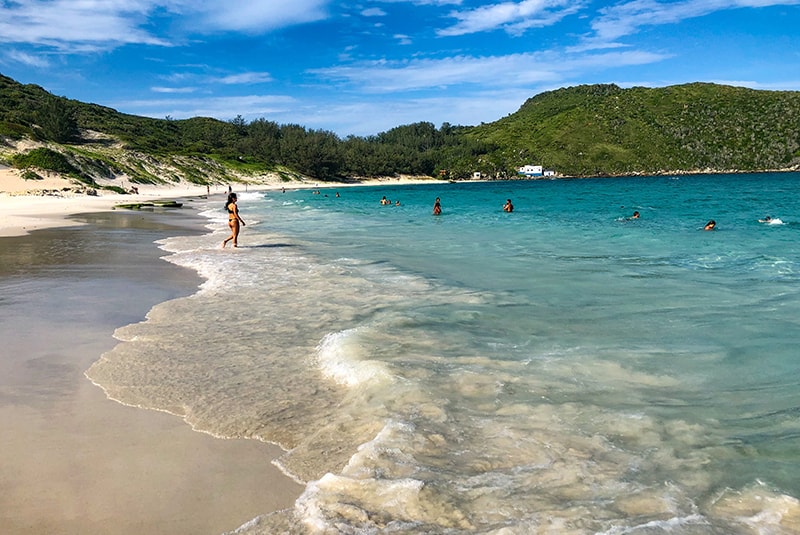 STOP 2 – PRAINHAS DO PONTAL DO ATALAIA
Crystal green water and a cave
We spend approx. 1 hour here.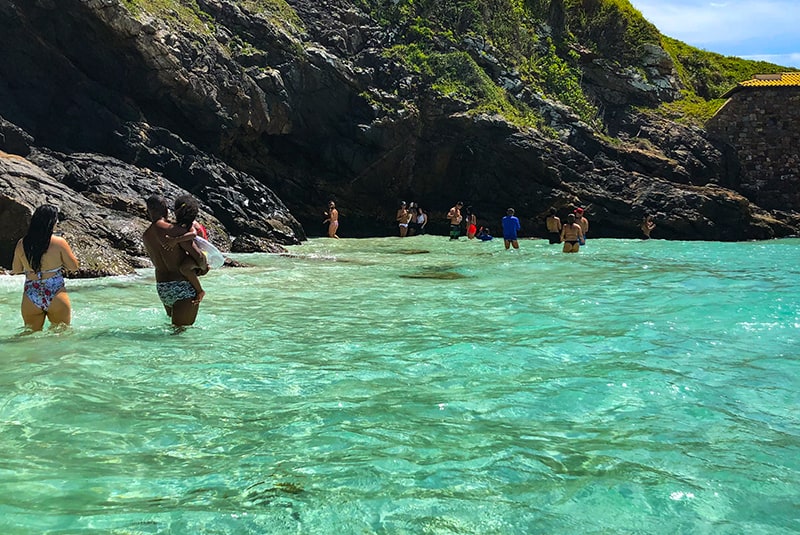 STOP 3 – ENSEADA DA PRAIA DO FORNO
Let's relax some more floating
We spend approx. 30 minutes here.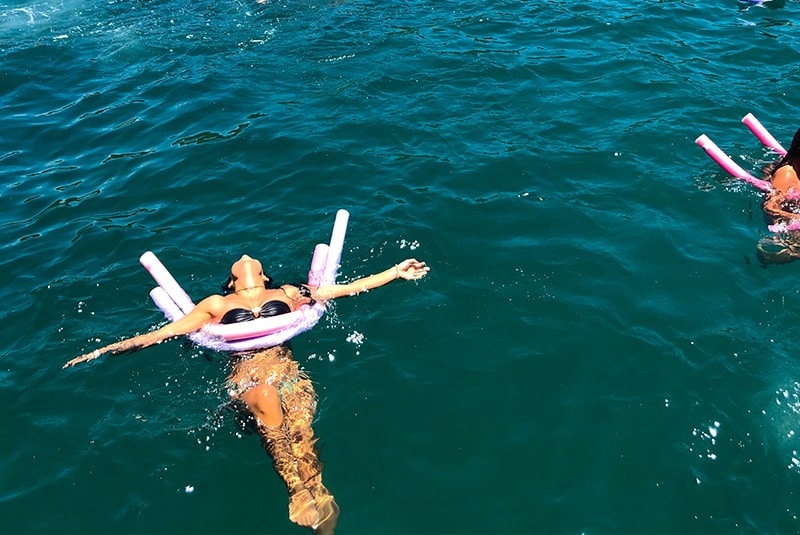 STOP 4 – PRAIA GRANDE
Stay and watch the amazing sunset / By land
After the boat tour, if you choose, your private driver will stop by an amazing lookout point in Arraial for you to take some more amazing photos of this nature paradise and afterwards stop at Praia Grande where you can continue to relax on the white sand beach and await the amazing sunset from here.
After sunset, the driver takes you safely back to Rio de Janeiro.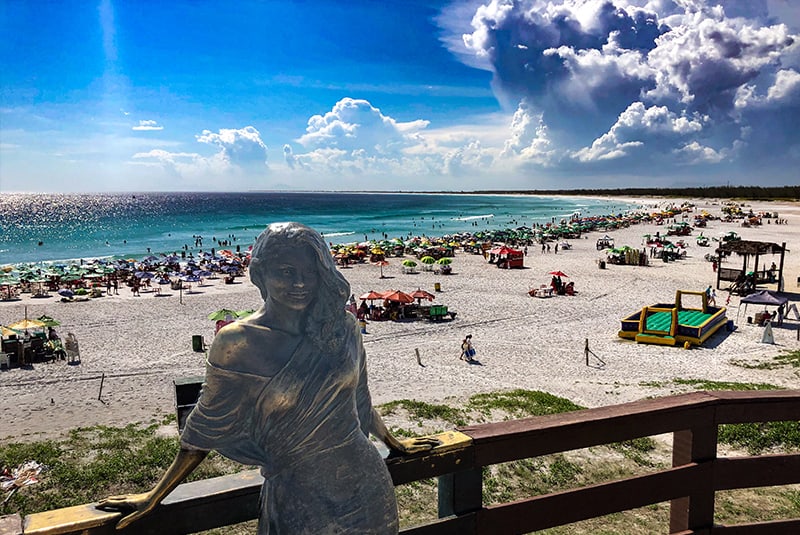 The Boat
We go with one of the two boats that are authorised to leave the dock in Arraial do Cabo first and that is how we can beat the crowds at the paradise beaches in the region.
*on the photo one of the 2 boats we use.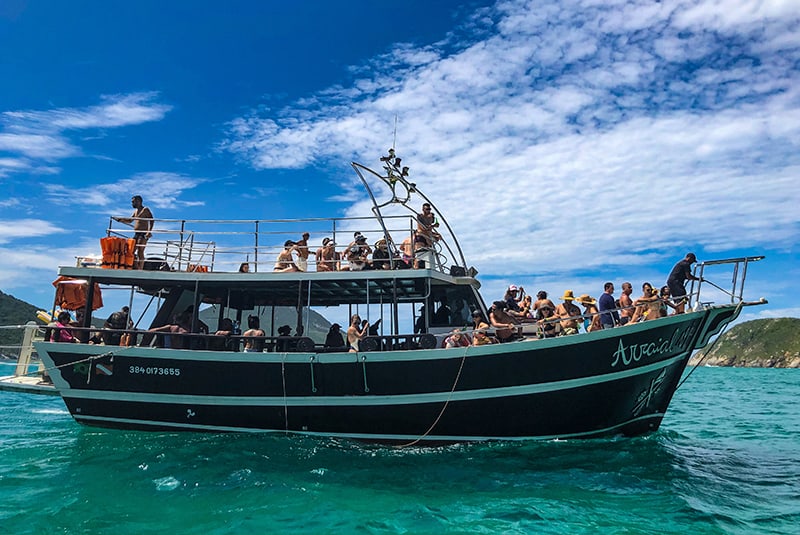 Observations:
Even though very rare, wind conditions can be so strong that the local authorities in Buzios prohibit boat tour and this is difficult to foresee because the wind can strength can increase very suddenly. If this happens you will have the option of receiving a beach tour by land our visit the center and Rua das Pedras, also you will receive a 50% refund in this case.
We need to receive your exact pick up address, in Rio de Janeiro, at least 12 hours before your scheduled pick up
The final boat tour route may change as we depend on weather and wind conditions
Prohibited to bring cooler, styrofoam, stereo on board.
Payment & Cancelation Policy:
50% payment needed to reserve; the remaining part needs to be paid at least 48 hours before scheduled pick up time

Cancellation Fee of 50% ( of total price ) is charged if canceled 48 hours or less before scheduled pick up time.
Book Now!
Facebook
You can book or ask questions through Facebook Messenger.
WhatsApp
Or if you choose contact us on WhatsApp +55 21 99620-1948