3 Days In Buzios & Arraial do Cabo
Join us in this fun adventure in paradise
Both Buzios and Arraial do Cabo are pure adventure and fun all in a nature paradise unlike anything else.
Our trip will allow you to immerse yourself into this natural beauty thru various fun activities and allow you to make many new friends.
We have hand-picked the best boats, with the most fun crews, for the included both trips in Arraial do Cabo and Buzios. You will have the opportunity to snorkel in reefs which are full of life and you will be able to get underwater photos. We will go on a really fun sunset boat party, which brings a really fun and animated crowd together on a 220 guest Catamaran. We can learn the basics of surfing and taste much of the Brazilian gastronomy and fun drinks.
We have a private transport for all of our included excursions.
Certified Guide, who speak English, Portuguese, Spanish, and Swedish, along 24 hours per day.
Come with us! Leaving every Tuesday from Rio and returning Friday.
Buzios vs. Arraial do Cabo - Rio de Janeiro

🇬🇧 Have you been to Armação Dos Búzios, Rio De Janeiro, Brazil and Arraial Do Cabo - Rio de Janeiro?🇧🇷 Vc já foi a Búzios e Arraial do Cabo?(Vídeo com legendas em Português)Thanks to / Agradecimento a:Libertas TurismoPiratas do Caribe Arraial do CaboPousada Bella Vida GeribaBuzin

Posted by Rio Love Story on Friday, November 17, 2017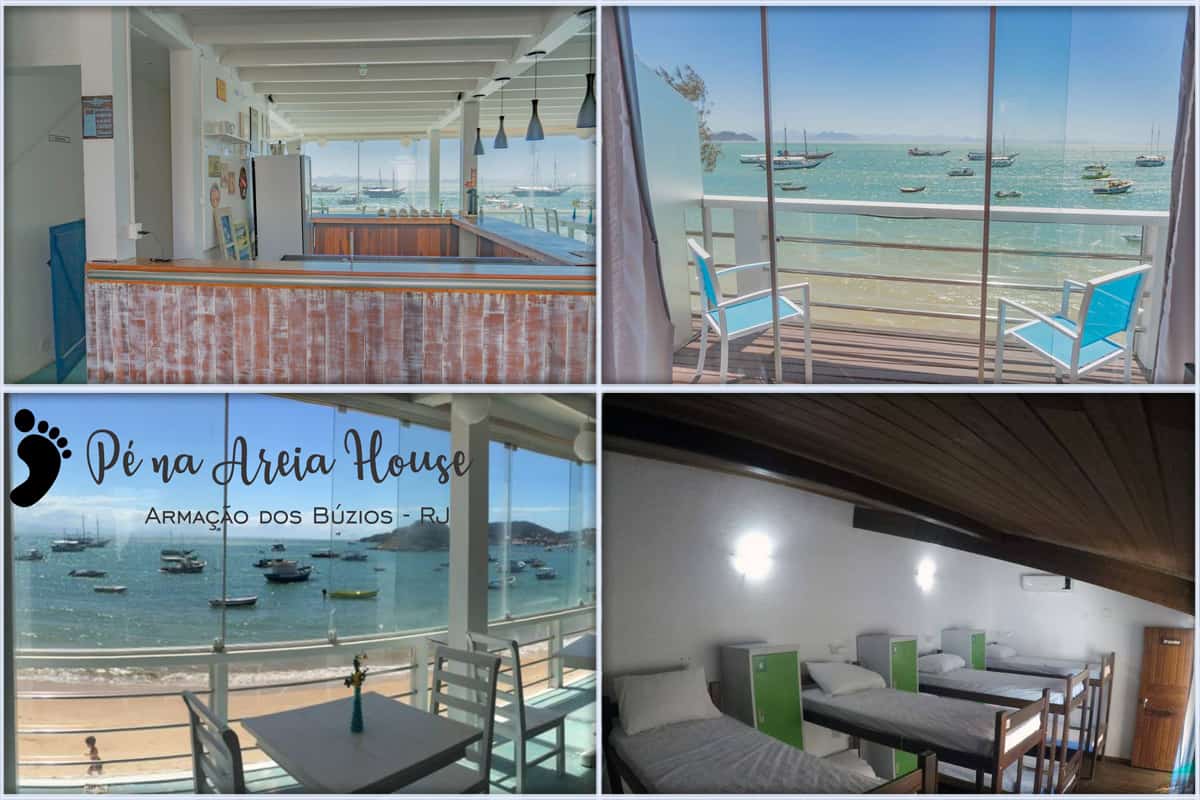 PACKAGE SUMMARY
Transfer to/from Buzios from Rio in a private 7 passenger car
Welcome Party with BBQ and Caipirinha
3 nights (breakfast included) in the amazing hostel (Pé na Areia) in front of the beach
Round trip to Geriba beach – (optional surf classes 25 Reais)
Trekking to João Fernandes beach – (optional: snorkeling 25 Reais)
Sunset Boat Party in buzios on a Catamaran
Boat Tour in Arraial do Cabo
Visit to an amazing view point in Arraial do Cabo
Certified Guide
All with a Fun & Adventurous group
Prices
SHARED room reserved for our group of 7: R$890 ($274)
Day by Day
Day 1 (Tuesday)
Leaving Rio Zona Sul (with our private comfortable transport) at 10:00
Arriving at our chic beach hostel / 13:30
Visit to Geriba Beach (optional Surf Class 25 Reais) / 15:00
Brazilian "Churrasco" (BBQ) & Caipirinha / 20:00
Day 2 (Wednesday)
Trekking to Praia São Fernandes Reefs (optional snorkeling 25 Reais) / 10:30
Amazing Sunset Boat Party on a Catamaran that takes 220 Partygoers / 16:00-22:00
Day 3 (Thursday)
Spectacular Boat Trip in Arraial do Cabo / 10:00
Day 4 (Friday)
Check-Out and Return to Rio Zona Sul / 12:00
Facebook
We prefer that you book through our Facebook chat in the lower right corner. We are always available to answer your questions there.
WhatsApp
You can also get in touch with us on WhatsApp on +55 21 99620-1948
E-Mail
If you prefer to contact us by E-mail, you can do so at Tavi.Noren@Riolovestory.com